About Us - Builders In Liverpool
We are a company with a first class reputation of workmanship and quality.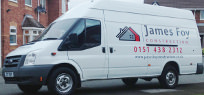 Our business has been built on quality, excellent workmanship and a good, solid reputation with our customers and clients over the decades. We have been established over 30 years and have planned, completed and serviced countless jobs. We offer free, no obligation advice prior to a free estimate. We took the plunge and in December 2009 went online with our website to showcase our workmanship to the whole of Merseyside.
James Foy owns the company and is highly regarded in Liverpool/Merseyside for first class workmanship in the domestic/small commercial arena. James has even completed work for members of the councils building inspection team! He has even been on Radio 2 with Jeremy Vine!
James has been in the building trade since age 15. He has held managerial roles for Liverpool City Council over seeing large building and maintenance projects, for example, the installation of UPVC windows in social housing. He was probably one of the first people in Liverpool to own a mobile phone at £0.62 pence per minute with an aerial Radio City is now broadcasted with!
"I'm writing to say how pleased I am with the kitchen you recently fitted. I received a recommendation from a neighbour who had previous work completed to an excellent standard. I found them pleasant and honest and would thoroughly recommend them." - Mrs Williams, Stockbridge Village
If you are looking for a friendly, straight-forward approach to your building project you will find working with James and his team a pleasure to conduct business with.
As a company we aim everyday to meet the following requirements:
The first and most important (this isn't even a requirement) -- first class workmanship which is second to none.
Open, honest and clear pricing of works
Keep our customers and clients up-to-date with the project
Listen clearly to our customers and their requirements
Keep to an accurate schedule of works
Attend the best chip shops throughout Liverpool and avoid the more questionable establishments
Our industry suffers from a fairly miserable reputation but there are good, honest companies out there -- and we are one of them. We publicly showcase our work for potential customers to see. We do not use tacky stock photographs of the internet!
If you have a project you would like us to view please give us a call or contact us online. You can view our contact details by navigating to our contact page.