Extensions & Porches in Liverpool
We are experts at home extensions and operate solely in Liverpool. Check our extension photographs. Book your appointment today: 0151 438 2312.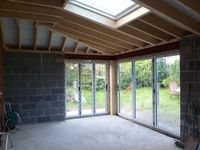 Extensions are our speciality and account for the majority of our projects. Our team can help you plan, design and liaise with the City Council. Once all the plans & paper work has been completed, we can then construct your new extension. James has an excellent relationship with the council and will aid on guiding you through the process.
Moving home for more space is usually more expensive and head-ache than extending your current home. Given most realistic budgets, we can help you decide what is possible and what you could expect with the funding you have available.
We can offer you a free quotation in which an engineer will attend and explain the process. We will take measurements and photographs to aid in generating an accurate quotation.
In most cases, our customers want us to manage every aspect of their new extension. They want us to handle putting the foundation in to painting the internal walls once completed. All trade aspects will be handled and managed by ourselves.
Whether you require a single or double storey extension, we will effectively manage and complete your extension to the highest quality.
---
Extension FAQ (click to expand)
Q: We have plans which have been drawn up for an extension. Would we be able to email you for a rough estimate?
A: Yes. Please see our contact details. It is always advisable for a site visit for a more accurate quotation.
Q: Can we/I visit a previous extension you have constructed?
A: Absolutely. We have excellent relationships with previous customers and can arrange for a visitation. This is usually after the quotation has been accepted on costings.
Q: Are you able to draw up plans for submission to planning?
A: Yes. We can help you through the whole process. We have excellent relationships with building control and their personnel.
Q: Will a contract be drawn up before the project commences?
A: Absolutely. The contract will detail the whole process and payment intervals. Final payment is usually due once the project is completed.
---
Extension Photographs